Hello world!
November 3, 2017
Workout Video #1
October 3, 2019
Chicken Taco Avocados
20 minPrep Time
20 minTotal Time
Yields 6
Author:
Megan Shepherd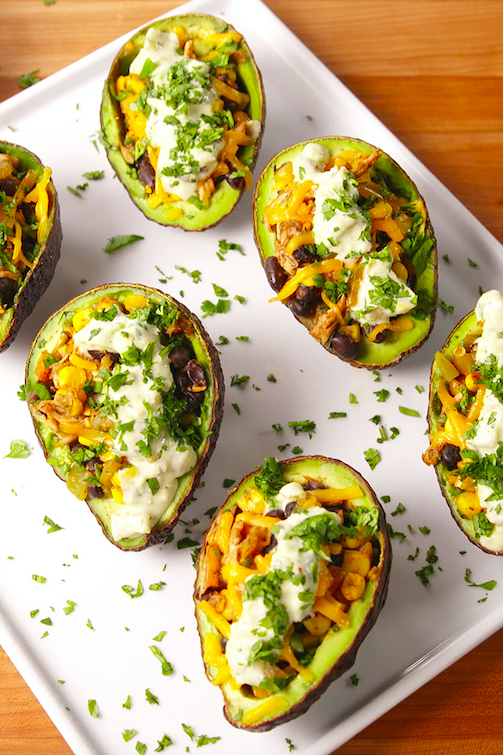 Save Recipe
Print Recipe
Ingredients
FOR THE FILLING
1 c. black beans, cooked
1 c. canned corn
1 4-oz. can green chiles, divided
1 c. shredded rotisserie chicken, preferably Tyson Grilled & Ready Pulled Chicken Breasts
1 c. shredded Cheddar, plus more for topping
1 package taco seasoning
2 tbsp. fresh cilantro, plus more for topping
3 ripe avocados
FOR THE DRESSING
1 c. ranch dressing
1/4 c. lime juice
1 tbsp. fresh cilantro
1 tsp. kosher salt
1 tsp. fresh ground black pepper
Instructions
Heat broiler. Make filling: In a large bowl, combine black beans, corn, 1/2 can green chiles, shredded chicken, Cheddar, taco seasoning, and fresh cilantro. Stir until combined.
Halve and separate three avocados, removing pit and hollowing out insides. Mash insides in a small bowl and set aside.
Place avocado boats face up and fill each with 1/3 cup of filling. Sprinkle with more Cheddar and more fresh cilantro, then broil until cheese is melty, about 2 minutes.
Make dressing: In a medium bowl, combine ranch dressing, lime juice, remaining green chiles, cilantro, salt, and pepper and stir to combine. Fold in mashed avocados and mix until smooth.
Remove avocado boats from oven and transfer to serving dish. Drizzle with dressing and garnish with more cilantro, if desired. Serve immediately.
Nutrition
Click Here For Full Nutrition, Exchanges, and My Plate Info
7.8.1.2
1
https://capfitnessacademy.com/chicken-taco-avocados/